Lenny Wentworth - Bequest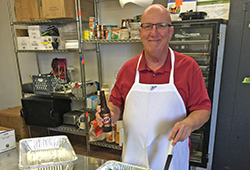 Connections mean everything. For Lenny Wentworth, it's connections that have driven his giving spirit to Saddleback Memorial Foundation.

After retiring, Lenny and his wife, Carmella, began volunteering at Saddleback Memorial as a way to give back in 2006. Carmella made stuffed hearts and bears for patients, and Lenny worked in escort and messenger services.

"I enjoyed meeting so many interesting people while volunteering," says Lenny. "Everyone has a history, a story, you know? I made great friends."

They decided they would focus their philanthropy on Saddleback Memorial Medical Center, where they had felt such a strong sense of community and family, where they felt connected to not just to the other volunteers, but to the staff.

In fact, Lenny has directed a gift to Saddleback Memorial Foundation in his trust, known as a charitable bequest. He encourages everyone to do this because it's so simple. The gift can be a percentage of your estate, a specific dollar amount or asset, or the balance from your estate. The Foundation can also be designated as a beneficiary for a retirement asset, such as an IRA. As a donor of this type, Lenny has been honored as a member of the Foundation's Heritage Society.

"I know the funds will be put to good use," he added.

With a bequest, Lenny feels he's leaving a legacy for his beloved Carmella. When Carmella became ill with lymphoma, their connection to the hospital became even stronger, and Lenny was even more firm about his commitment to the Foundation.

"The people that cared for her were outstanding," Lenny says. "The doctors and nurses all knew her; they all knew me."

He also recognizes the excellence of the Blood Donor Center. Lenny was pleased during Carmella's illness that she was able to receive his personally donated blood. He also lauds the staff of hospice care, who supported him through Carmella's last days. When she passed away in August 2014, Lenny asked for donations to the Foundation in lieu of flowers. He feels connected to Saddleback Memorial.

Connected at the heart.