Douglas Lyle, M.D. - Charitable Gift Annuity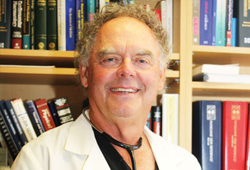 Anyone who reads mysteries or watches current crime thrillers on television may have seen the name D.P. Lyle. But in the Saddleback Memorial community, this prolific and award-winning author is known as Douglas Lyle, M.D., a fellowship-trained cardiologist and medical leader active at Saddleback Memorial since the 1980s.

Dr. Lyle's gifts have advanced patient care at Saddleback Memorial in many areas, especially in heart and cancer care. While serving on the capital campaign committee to build the hospital's state-of-the-art MemorialCare Cancer Institute at Saddleback, he made two donations through deferred charitable gift annuities to support cancer services. A charitable gift annuity is a popular planned giving option enabling socially minded investors to give back while saving on taxes.

"Saddleback is where I want my patients to be, so I want it to be the best hospital it can be," he says.

He adds, "The annuity was a good tax write-off, but the main reason I gave was to support the hospital and specifically to broaden cancer services, since cancer is a disease affecting so many people. I had actually forgotten that my gift had matured until I received a check in the mail last year, which was a nice surprise."

Dr. Lyle still provides outpatient heart care but also devotes his energies to writing, teaching, and consulting for many popular television shows such as Law & Order, CSI: Miami, and House, to name a few. He is the author of the bestselling Forensics for Dummies and many other publications.